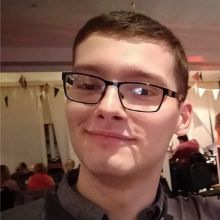 My name is Adam O'Donnell, I am a 23-year-old student at Edinburgh College studying NC5 Business. I live with my fiancée and two-year-old son.
I believe I would make an excellent choice for your Student President because I always strive to help others in any capacity I can. With this opportunity I hope to help all the students of the college by continuing the great work of our current president Carla to improve the students learning experience aswell as working with the lecturers and students to find the right balance to ensure everyone reaches their full potential.
My two-stage plan for this is to revisit how classes and exams are being treated (by this I mean are classes just long lectures with no practical elements or is it last minute surprise exams with no prep time?) and to improve the availability of support for students who require extra help to achieve their best. 
I have struggled with dyslexia my whole life so I know how difficult and scary the prospect of exams and tests can be and this should not be the case. Currently the college is ranked worst in Scotland for its retention of students and its pass rate of courses, this is not where Edinburgh College should be, and I promise if elected I will devote myself to making a positive change for everyone.