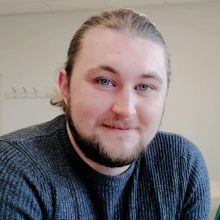 Jordan Wyllie: ECSA 2020 Presidential Candidate
A bit about myself: even at a young age I have accumulated a vast amount of life experiences and faced down challenges that were well beyond my years, overcoming these through tenacity and an unwillingness to settle for less than what was necessary. Through these challenges I have seen the hidden obstacles that various people face in life and can sympathise with them.
I understand that students face different obstacles that may impact on their lives as students and in some cases leave them feeling like they are unable to proceed with their education- such as their mental wellbeing or other outside world demands. I feel it is the obligation of the Students' Association to be aware of these circumstances and always be striving to ease the issues within the college. 
As President I will constantly be assessing various means to improve resources and facilities available to students. I will also raise awareness of initiatives that are already implemented and ensure that students know who to turn to and what support they will receive.
My main purpose as President will be listening to students and ensuring that their voices are heard fairly and equally.
Finally I hope when you cast your vote at the elections it will be one that you feel will hold your best interests at heart.