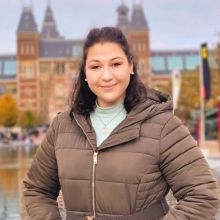 ENCOURAGE. ENGAGE. ENHANCE. 
As VP Activities I hope to Encourage students to Engage in extra activities, be it sports or a society to promote healthy body, healthy mind and well being, which will all Enhance a student's experience at Edinburgh College. I would like to create an open door policy and approachable environment where students and members can voice their concerns and seek guidance.
Through initiatives like This Girl Can I hope to promote a healthy culture of women in sport and encourage more to get involved be it a sport or activity by hosting 'Give it a Go' sessions and providing information to students on teams or activities that appeal to them.
With Healthy Body, Healthy Mind, the initiative by the National Union of Students Scotland and Scottish Student Sport I hope to encourage students to thrive throughout their college experience through activity, healthy eating and wellbeing with hopes of fulfilling the criteria and securing the Bronze Award by Spring/Summer 2021.
Pressures of academic life, financial hardship and employment prospects can take their toll on student wellbeing and I want to help ease that pressure on students and make their Edinburgh College journey the most enjoyable experience!
I will be able to use my past experiences in both sports and societies to help more students to get involved and try out new activities which will only enhance and enrich a students journey at Edinburgh College!