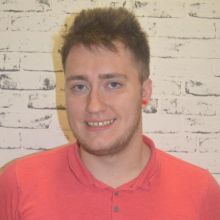 The purpose of the VP welfare officer is to provide support, representation and raise awareness of student health, finance, housing & safety issues as well as to ensure adequate welfare provision and support for students.
In order to fully represent the student body, I feel it is essential that whoever is elected should have experienced first-hand the issues that our student peers are facing. 
As a care experienced student, who suffers from a mental health condition called Bipolar, struggles with dyslexia, has experienced homelessness, has struggled with financial difficulties and who identifies as part of the wider LGBT+ community, I feel I have the life experience to represent my student peers and if elected, that is exactly what I will do. 
If elected, I pledge to:
Raise awareness and increase the conversation around mental health as part of the #ItsNotJustYou campaign
Promote a more inclusive college environment that pays particular attention to strength and empowerment amongst students
Consider a "needs based" support package rather than a "one size fits all" approach
Listen to the voices of all students and provide regular welfare presence across the college to maintain a strong support network
Ensure all students can access funding with a flexible consideration of all circumstances
I would love to have the opportunity to use my own experiences to not only help implement a positive change for many of my student peers but also leave a legacy that will continue to influence others in the future.