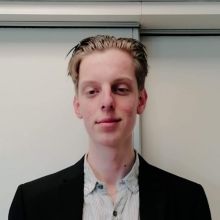 My name Is Ciarán Kelly, I'm currently a part-time student studying social sciences at Milton campus. I work in the social services as a support worker in a mental health rehabilitation residency, my role is to support people suffering from mental illness to build themselves up and lead there best lives, which can certainly come with its ups and downs.
My reasons for wanting to be your Vice President Welfare 
I would like to make a positive change to people's lives in and out of college and help them to balance between the two. When I say this, I mean I would like to create tailored support groups (chosen by students) to give students the opportunity to feel more included in the college and create a comfortable environment for students to talk about any problems they are facing, I believe not all support has to be in a formal setting.
I would also like to have an open-door policy for anyone in the college to come chat with myself as well as ECSA about anything on their mind, I would like to be a known face to students and to support as many students as I can to have their best college lives and good wellbeing.
I think the position of welfare officer must be someone who will make the first move if they feel someone is struggling and be someone students can have faith in to fight their corner no matter the problem.