Hi everyone and Happy New Year 2021!
What a year 2020 was, I hope everyone managed to have as much of a relaxing break as possible. I'm sure you are all aware that Scotland is once again in lockdown and the college have made the decision to stick to online learning till at least the 15th of February to protect both staff and students.
We understand how incredibly tough this is for everyone, especially those with caring responsibilities. At ECSA we are working from home too, so understand the strain this can have on your mental wellbeing. Rest assured that Edinburgh College are working hard to make sure that all students get the support they need to get through this tough time and all support services will be available virtually. At ECSA we are also here to help you with any issues or concerns you might have, so please do not hesitate to contact us if you need any advice or support or even just a quick chat.
Check out the ECSA Wellbeing Hub
You can access support from the College Welfare Team through Moodle here
Wellbeing Wednesday is back on 20th January. Join here on Teams
I have myself felt disheartened by the new lockdown and felt depressed, lonely and stressed by watching the news and being unable to see my friends and family. Doomscrolling is a real thing, so keep in mind that if you don't check social media for a couple of hours, you probably aren't missing too much anyway.
So I first want to say, it is okay to feel sad and depressed by what is an incredibly difficult situation. Remember, be kind to yourself as it is perfectly normal and understandable to find these restrictions difficult to deal with. Do what you can, help when you can and we will get to brighter things soon.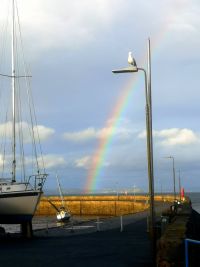 "Try to be a rainbow in someone's cloud." — Maya Angelou
I am incredibly proud of how all of you have coped in the past 9 months of this crisis. So please give yourselves a pat on the back and reflect on all the things you have achieved despite a huge number of obstacles that have been thrown your way during 2020! You have adapted to a completely different way of living due to lockdown and you have adapted to online learning. Also many of you have had the extra stresses of caring for children and loved ones during this crisis. I am in awe of the strength and resilience you have all shown during this past year which continues to inspire me to work even harder to represent the interests of all students.
This year may have started badly with the news of a new lockdown but there is light at the end of the tunnel. Three different vaccines have been approved and are being rolled out as we speak. We have passed the winter solstice so the sun will gradually be out for longer and we can look forward to a spring/summer when we can have more fun outdoors and socialize. In the meantime, take care of yourselves and remember to reach out to your friends, family, the college or ECSA if you need any help and support! We have lots of activities to come this semester so make sure you join in.
Stay safe and take care!
Rose (VP Welfare)