The Under 22's Free Bus Travel scheme will be launching from 31 Janury. This scheme aims to encourage greener travel patterns and increase opportunities for young people in terms of employment, education and social activities. If you are 5-21 years old and live in Scotland then you are eligible for free bus travel, no matter your nationality.
The scheme will give you free travel on any bus in any part of Scotland on registered bus services. You can travel on buses outside the area you live in using your card. Only a few services, such as premium-fare night buses and City Sighteeing buses, will not accept the card. Contact the bus company before you travel if you are unsure.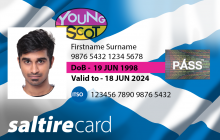 In order to travel by bus for free you will need a new or replacement National Entitlement Card (NEC) or Young Scot National Entitlement Card (Young Scot NEC) that is in good working order. The application for young people who are 16-21 years old must be made by the young person. When applying, they will need to provide proof of identity (name and age) and proof of address. The photograph used on the application for the card must look like you. Young Scot NEC (that inlcudes the Young Scot, EYCA and PASS logos) provides access to a number of other services, experiences, rewards and discounts Young Scot's website
I've had a Young Scot card before
For NEC and Young Scot NEC holders, the application process for a replacement is easier when the 16 digit card number found on the front of the card is quoted. The existing NEC or Young Scot NEC can also be used as proof of identity.
Updates / Renewals / Replacements
I've never had a Young Scot card before
Applications are now open at GETYOURNEC.SCOT. If you're applying online, you may find it useful, before starting the application process, to download or look out the documents as outlined that you will need. You can apply using a smartphone/tablet or a computer depending on your preference, and if you don't have scanned copies of your documents, you can take photos of your proofs during the application process using a smartphone/tablet.
Alternatively you can apply in person at your local council office. Please contact your local council for more information.