Over the past couple of months, we have been working closely with a group of dedicated staff from across the College to research, develop, plan, and trial our Free Breakfast Club - the bain-child of our President, David.
We are delighted to finally be able to announce that the Breakfast Club will be fully launched across all 4 campuses from Tuesday the 25th of October!
Research has shown time and time again, that students who eat breakfast perform better in their studies. With the rising cost of everything, and more and more stress on students, ECSA believes that offering this service can go some way to help students feel a bit better, stay on track, and achieve what they want to at College.
What's the offer?
We are providing a mixture of items, based on feedback fom students through the survey we ran in September. This may change going forward, but, for now, we are offering:
Tea
Coffee
Fruit Juice
Breakfast Bars
Fruit
Bagels/Toast with butter & jam
Who is it for?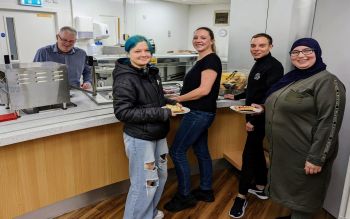 This service is 100% free to any student who needs it. So, to be clear, it is free for all students at Edinburgh College! Just come along and help yourself if you are hungry. As we are tryig to deliver to as many students as possible, we ask that students try and limit themselves to 1 drink and 2 breakfst items each day.
Where and when do I get my free breakfast?!
Free breakfasts will be available on your campus in the canteen area (listed below). The service will run from 8.30am to 9.30am from Tuesday the 25th of October. Check your local canteen for further info on what days it will be running on your campus.We plan on running every Tuesday, Wednesday, and Thursday during term time.
Granton - Hub canteen
Midlothian - Food court
Milton Rd - Canteen, Club Building, 1st Floor
Sighthill - Main canteen area
Will this we a regular thing?
Yes. We have devloped the plan, recruited student-staff to help run the service, and are committed to delivering this service for a minimum of 3 days per week, per campus. So, help spread the word, pop along to your local Breakfast Club and make the most of a healthy start to your day at College.
Feedback
If you have any questions, comments, or suggestions about the Breakfast Club, please contact ECSA President, David Elder on david.elder@edinburghcollege.ac.uk