VP Activities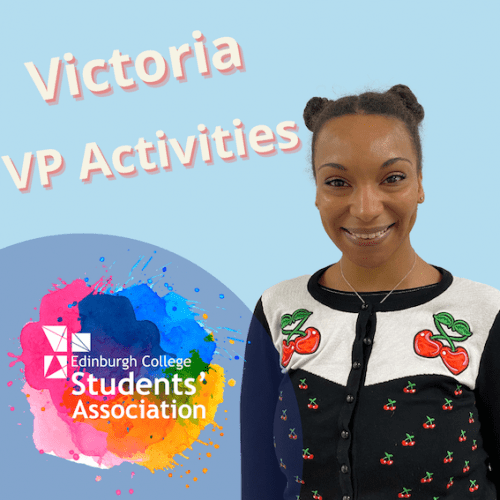 Victoria Browning
Campus:
College-wide
Officer Email:

vpactivities@ecsa.scot
About Victoria
Elected VP Activities in March 2020 and re-ran in March 2021
Course: HND Creative Industries: Television
Ideas for year: Events & Activities played such an important role in my college experience and I want to make sure they're the best that they can possibly be, after all the college experience is so much more than timetabled classes and cramming for exams (too soon ??‍♀️).
Reason for running: I stood for re-election because I knew I could do more to improve the EC student experience. I learnt so much during my first year as an officer and I wanted to put that knowledge to the best use.
Reflections.. 2020 Dumpster fire or ...
Last year the world was shaken up just a tad by 'that which shall not be named', but I want to continue to work together with students to understand how we can build an even better college experience, like a phoenix from 2020 because we all have had a once in a lifetime *fingers crossed* experience that we can definitely learn from.
The only way is...Forward
I have a number of plans for the year, but my 2 main aims for year are: to make sure that our student clubs and societies have the best resources to engage their communities in the best ways possible, be that online or in person and to make sure that students get the best Edinburgh College experience wherever they are studying, so will be trying to hear from as many students as possible in the coming months.
My unwanted advice for students?
I know you didn't ask BUT, my advice for students this year is to make sure to get involved in as much as possible, it might seem daunting at first but once you've joined in you realise everyone else is in the same situation as you and everyone wants to make new friends. Just try to make the absolute most of your time at college, you are a student in Scotland's Capital...HAVE FUN! ?
Main duties of VP activities include:
Representing students on various College & External Committees, with Chairing responsibilities for relevant internal meetings
Work with relevant sector organisations
Responsible for organising Fresher's week & engaging student led events Work on Healthy Body Healthy Mind to create a positive culture centred around healthy living on campus
Work with the officers across all 4 campuses on issues specific to related to sports & activities
Support & develop students to empower them to be engaged with ECSA
Consult with students on current issues facing them and develop solutions to the benefit of students
Develop activities to be as of inclusive of as many students as possible
Work to improve participation by students across the college in sports, clubs and activities