VP Welfare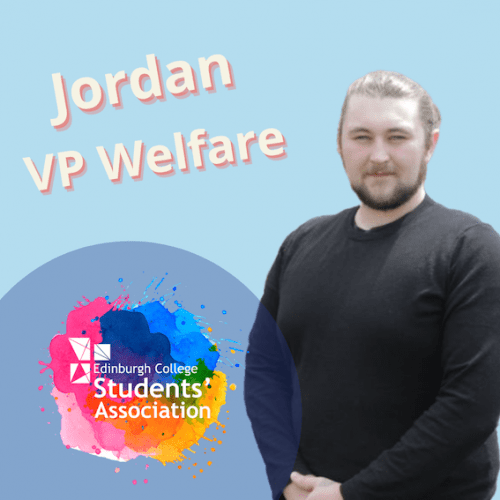 Jordan Wyllie
Campus:
College-wide
Officer Email:

vpwelfare@ecsa.scot
About Jordan
Re-elected to Vice President in March 2021 as a 2nd-year officer after completing a year as ECSA President.
Course: Introduction to Social Sciences Level 4 at Milton Road (Yes, level 4 you read that right!) 2019-2020
Ideas: Things have changed, last year has changed all of us in one way or another, this year I will be looking to work with you all to bolster the mental health provisions get us all back to a good state of wellbeing.
Reflecting on last year: Last year like many of you I had no idea what to expect and like a few of you I stumbled along at times never really know what was going on, but then I realised like many of you have, we should be so proud of ourselves for getting through that chaos and the one thing I learned is to enjoy the small moments. That time someone's pet came on screen, those little conversations about new shows or peoples hobbies and how even through virtual settings many of us have still made connections with our peers. Just because we made connections online makes them no less than the connection we make in face to face environments. so this year like last year I will be cherishing those small moments of peoples pets coming on screen and in a virtual world I will still be aiming to make connections with people and I hope you all do the same. ?
Favourite studying tool: Grammarly - I do not know what I would do without spell check and punctuation reminders.
Fun fact: I do love doing home improvements or anything else hands-on. I am a massive anime and manga fan and have recently started reading light novels for tensura (That time I got reincarnated as a slime). Less than a casual gamer as I am Engaged and over the next year, I'll be juggling wedding planning into my life.
Reason for running: After being President last year during the pandemic I felt that I just didn't get the chance to work with students as much as I wanted to so after a discussion with Rose we decided to swap the positions we ran for in the election. Luckily we were both succesful!
The main duties of the Vice President include:
Sit on the College Board of management and leadership committees and works with the college to ensure that students are at the centre of decisions
Sit on the ECSA trustee board to ensure the Association is student-led and focussed on our strategic objectives
Represent the association and students when attending external events
Support the student officer team and work towards organisational goals to benefit students
Work to ensure the best learning experience for all students
work with students to improve student wellbeing
Work with students to address their issues particularly around mental health and support and work towards solutions
Lead on creating a quality enhancement and wellbeing & equality culture within the college
Support & develop students to empower them to be engaged with ECSA
Updating the board of management and team through verbal and written reports
Setting the political direction of ECSA and working on national campaigns
My priority objectives for this year are:
To support students with the transition to back on campus learning when it comes in. for this I will need your support as students to identify any issues you are facing that makes life on campus more difficult than it perhaps needs to be.
Work with the college to deliver a set of diverse and engaging equality events as well as publishing an equalities calendar on our website so you can keep up to date on all the upcoming events throughout the year and if you see something missing but you feel passionate about I'm always open to new ideas and we can see if we can add it into our calendar.
Finally, I will be working on a project to support our students facing homelessness as I have been homeless while studying I am painfully aware that the level of support for students who are homeless is not up to par, this will consist of establishing a support system for students as well as launching a national campaign to call on the government to acknowledge the problem and work to resolve it nationally.