This year marks fifty years since first Pride event in the UK. In 1972 a first official UK Gay Pride Rally took place which was held in London. The movement evolved so much through all this years giving support for all LGBTQ+ pepole across UK offering inclusiveness that everyone deserve.
What is Pride month?
Pride is a celebration of mutual love and friendship, to show how far rights for LGBTQ+ people have come, as well as how there is still much to be done. It is celebrated in the month of June, as that was the month when the Stonewall riots took place.
The Stonewall riots were important protests that took place in 1969 in the United States. They are seen as a change in gay rights for people around the world.
How to mark it?
There are loads of ways you can mark Pride and we've come up with some ways for you to get engaged. You can learn, celebrate, watch and take action!
Learn
As part of Pride Month, we celebrate the work of LGBTQ+ people, educate ourselves on LGBTQ+ history, and raise awareness of issues affecting the LGBTQ+ community.
The Stonewall Charity is the largest organisation in Europe powering the whole movement. Their campaigns drive positive change in public attitudes and public policy. They provide help and advice but also educate by equipping people with skills and knowledge which can help them support LGBTQ+ communities. Visit the Stonewall website to learn how to sign up for their courses.
You can also read a guide to being a trans ally or learn about trans identities if you wish to do more to support.
It is also important to make sure that people know how to support young LGBT people. LGBT Youth Scotland has conducted a research on what life is like for LGBT Young People in Scotland.
Celebrate
Celebrate Pride month by attending a private event or organising an event with your friends.
You can also take part in Scottish Pride events which take place across the whole of Scotland.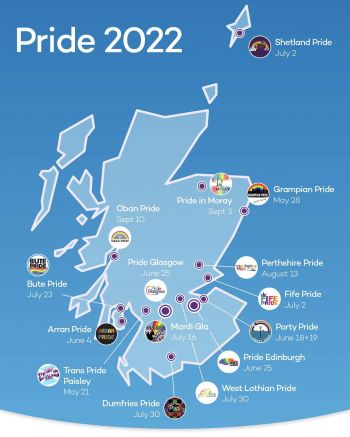 Support local organisations
You can also celebrate Pride month by supporting LGBTQ+ artists. Queerativity holds events in Edinburgh where queer artists have a chance to present their talents.
Visit What's On Edinburgh website to find all the upcoming LGBTQ+ events throughout Edinburgh.
Shop and visit queer owned businesses in Edinburgh
Lighthouse Bookshop which is a queer-owned and woman led independent community bookshop which celebrates diversity of thought and expression, championing voices from the margins.
Kafe Kweer is an LGBT+ friendly shop, cafe and art space for all ages and identities.
Take Action!
You can write to your MSPs to ask about support for trans people.
On the 50th anniversary of Pride, take the pledge to stand up for LGBTQ+ rights.
You can also show your pride, campaign and fundraise if you want to do more. Visit the Stonewall website to get involved.
Watch/read/listen
Reading LGBTQ+ books for Pride is another great way of supporting community, You can find a list of books here if you are looking for some inspirations.
Watching TV shows is also a great way to support LGBTQ+ casts and crews. If you've been keeping up with the latest shows on Netflix, a really fantastic show to watch is Alice Oseman's Heartstopper: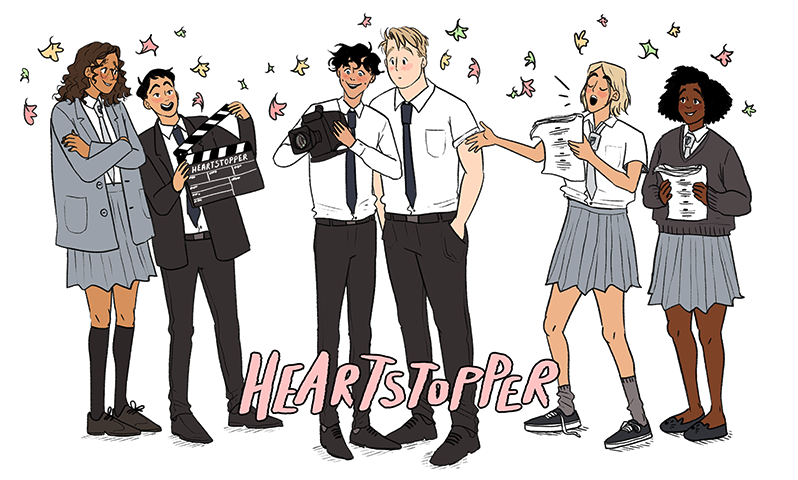 The show is adapted from the series of webcomics & now graphic novels created by Alice Oseman, and as a series on Netflix that's also written by Alice, it cuts to the core of queer joy and deals with navigating the ups and downs of first love, friendships, coming out and mental health, wonderfully told through an optimistic, delightful lens. It follows the story of Nick and Charlie as they meet at a British High School and quickly become friends and fall in love. They are beautifully framed by a warm cast of supporting characters of Tara, Darcy, Tao, Elle, Isaac and Imogen.
Our Student Engagement Assistant, Paige, highly recommends this:
"It's an utterly sweet, heartwarming and wholesome eight episode show that gives you a hug in TV form. It is so wonderful and warm, and some scenes are so closely adapted from the comic that you can actually read along with the comic and it just makes my heart so full. Heartstopper is such a positive portrayal of queerness and purely celebrates the fact that it's okay to just be who you are. It's a safe space and just encapsulates queer joy in the sweetest way. There is something so comforting and accepting about existing in the presence of these characters. Heartstopper's queer representation provides everything that the LGBTQ+ community craves - love, happiness and acceptance."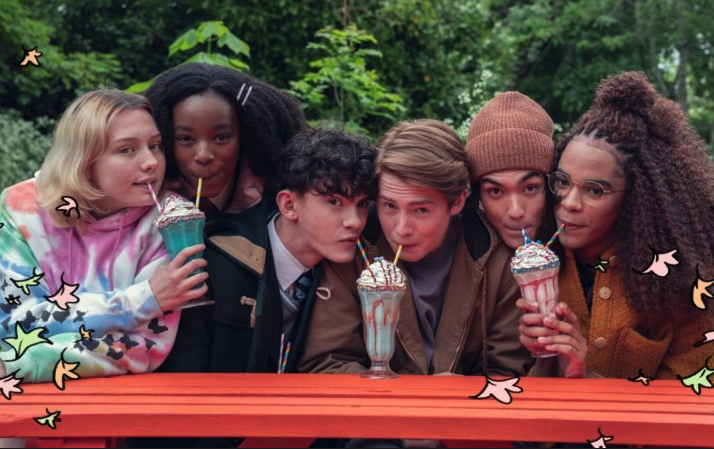 If you're interested in watching the show, you can follow the link to Netflix here.
All of Alice Oseman's books are available in many stores - Waterstones lists them all together on their author page here.
Since Heartstopper initially started out as a webcomic, Alice Oseman still updates the story online. You can read all of the Heartstopper comics so far for FREE online (Tapas is the most user friendly):
To find out more about the whole Heartstopper universe and Alice's other LGBTQ+ YA novels, you can visit Alice's website here.