Helping you to swap clothes and books with other students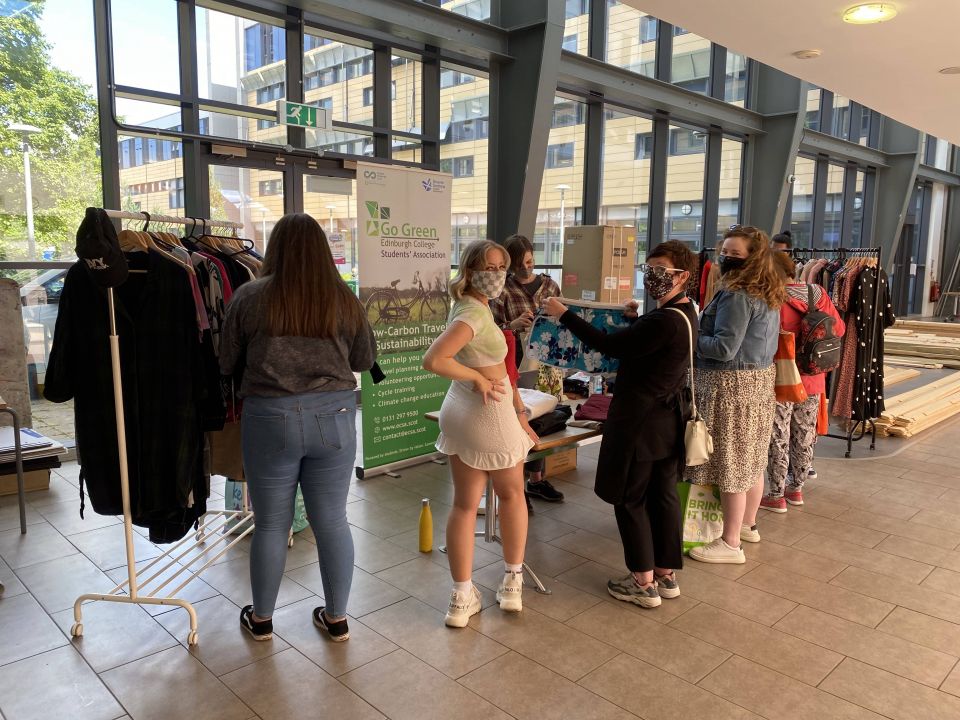 As part of the Student Association's Go Green Project, in 2021 we established Swap Shops across 4 Edinburgh College campuses using funding from the Scottish Government with the aim of reducing textiles waste, promoting reuse and creating a circular economy in our community. 
How does the Swap Shop work? 
All of the items available in the Swap Shop have been donated by students and staff at the College. Some of the items have been worn before, but others are brand new and are all available to take for free! 
We accept clean and good quality womens, mens and childrens clothes, shoes, bags and books! Leave any donations in the 'Donation Boxes' which can be found in the Go Green Hubs on each campus or at the Students' Association office. Do not put your donations straight out into the Swap Shop as our Go Green Team need to weigh each donation in. 
If you would like to take items from the Swap Shop make sure that you weigh your items using the digital scales and record the date and weight in the notebook. This is so we can calculate how much carbon is being saved by recycling items. 
Although our Go Green Team check all of the items before they are put into the Swap Shop, we reccommend that you wash any items you take before wearing them. Please be a considerate user of the Swap Shops, we have thousands of students and want to make sure that as many people as possible can benefit from the items that are donated, so don't take items unnecessarily and keep the clothes rails and shelves tidy!
What is a Swap Shop?
Swap Shops are free and local exchanges where members of the College community can pass on things they no longer want, in exchange for something they need. Many people describe it as a kind of cashless bring-and-buy sale, or bring-and-take. You don't need to donate anything in order to take items from the Swap Shop, and if you want to just donate items, that's ok too!
This is an example of what's sometimes called the circular economy. Rather than relying on new raw materials to create more new stuff, then disposing of it once you're done, the circular economy is about re-using or recycling old stuff into something that's wherever possible to keep resources moving in the economy. Just because something isn't useful or valuable to you anymore, it doesn't mean someone can't use it! By reusing things we cut down on the amount of waste that goes into landfill and reduce the amount of resources that we use in manufacturing of new products. And it saves money!